"Government Online-Offline" Rolls out Enterprise Listing Special Service Area to Solve Pressing Issues for Enterprises
To better serve the listing of enterprises, optimize the business environment and support the high-quality development of the real economy, the "Government Online-Offline" has rolled out the "Enterprise Listing Special Service Area" together with the "Xingqihang Platform" of Shanghai Stock Exchange (SSE) recently. It provides one-stop services for enterprises to be listed, helps them solve relevant problems as soon as possible, identifies in advance possible obstacles for listing, and assists them to better connect with the capital market in all aspects. For more details, please see ↓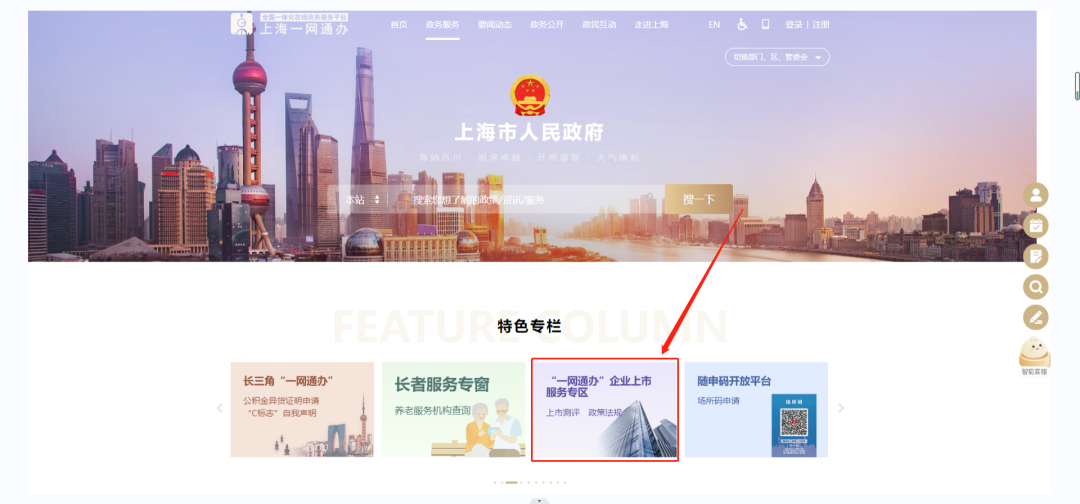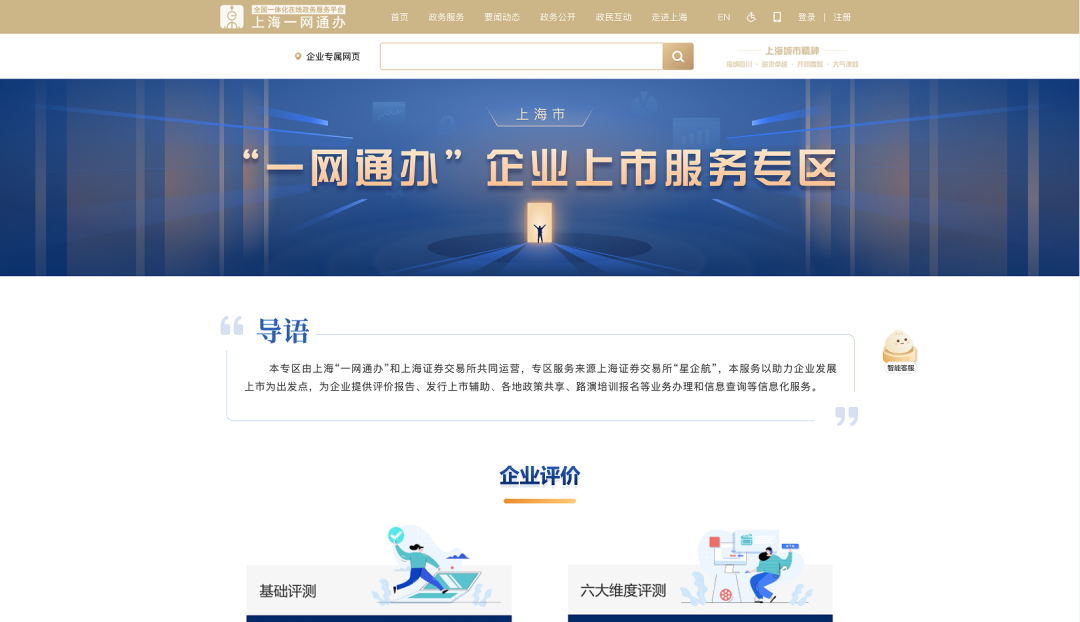 Aiming at helping enterprises for listing, the "Enterprise Listing Special Service Area", jointly forged by the "Government Online-Offline" and the SSE, provides enterprises with business handling and information inquiry services, including evaluation reports, issuance and listing assistance, policies sharing across the country and roadshow training. By doing so, it would strengthen enterprises' understanding of the capital market to drive business growth and serve the high-quality development of the real economy.
"Enterprise Evaluation" Section
Based on the analysis of public or self-reported data by enterprises, it provides assessments of enterprises' listing against the listing standards of various markets and public data of listed companies. Consisting of six-dimensional and basic assessments, it could identify the gaps by comparing the assessments with industry averages and listed peers to answer two questions that concern enterprises: "How far is it from listing" and "What specific aspects need to be optimized".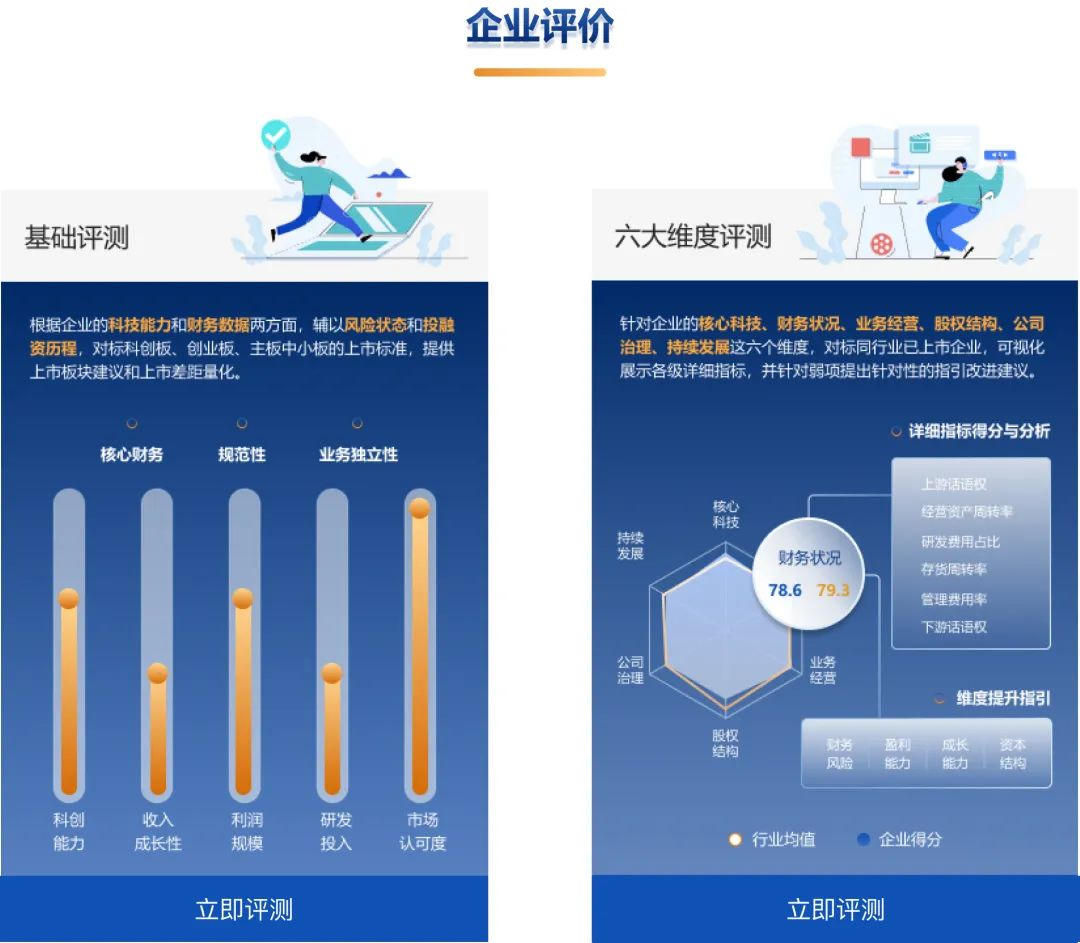 "Road to Listing" Section
This section is divided into multiple stages, namely learning about listing, listing planning, introduction of intermediary institutions, institutional reform and due diligence, listing guidance, review of application, underwriting and offering, and listed operation. It would instruct the enterprises about relevant rules, processes and guidelines of the SSE, provide online and offline contact with relevant departments of the SSE, and inquire about information on capital market-related service institutions.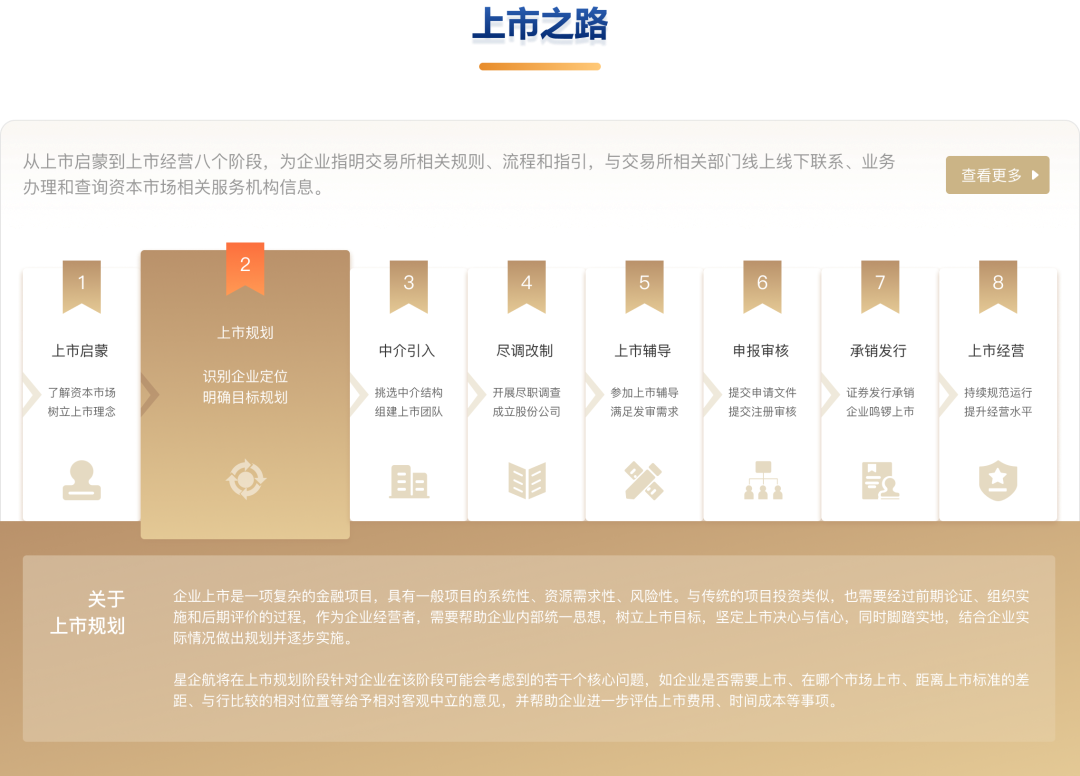 "Policies and Regulations" Section
With authoritative sources of information and timely updates, enterprises are allowed to have an overall grasp of the policy updates through capital market policy information gathered from various channels, including the central government, Shanghai municipal and district governments, and the China Securities Regulatory Commission system, which cover listing news, issuance review updates, local policies, market conditions, policy analysis and illustration, etc.
"Training Services" Section
This section aggregates online training course materials for enterprises and authorized training resources from the SSE and the government. Besides, it offers special training for enterprises to be listed on common issues in the form of messages, voice mails and videos.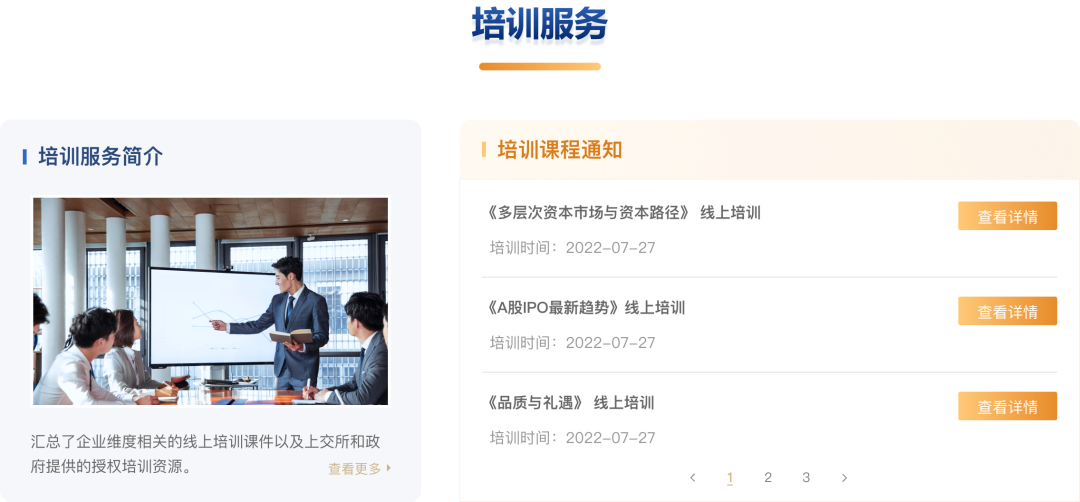 "Other Services" Section
This section comprises "Enterprise Mapping" and "Roadshow Events". The "Enterprise Mapping" provides various information queries on business registration and public retrieval of opinion data based on enterprise relationship mapping. The "Roadshow Events" provides roadshow services to enterprises, such as industry communication and financing cooperation, and also serves as showcase for offline activities of SSE and local enterprises.

Going forward, the "Government Online-Offline" Enterprise Listing Special Service Area will continue to optimize and improve various service functions and explore innovative service models to create an all-round and full-coverage Internet service system for enterprises to be listed, constantly enhance market service capabilities, and better support the innovative development of enterprises.