Guangzhou's 130 Pilot Opening Measures to Boost Hong Kong Service Sector's GBA Opportunities
After years of integration and development, the Guangdong‑Hong Kong‑Macao Greater Bay Area (GBA) has become one of the most important regions for economic development in China, and perhaps in the world. Even over the last three years, when the country was being severely affected by the Covid-19 pandemic, the Chinese government has continued to optimise the business environment and facilitate trade in order to promote cross‑border co‑operation in the GBA. Its most recent move was the publication by the Ministry of Commerce of a master plan for a comprehensive pilot scheme on further opening up the service sector in Guangzhou [1] which covers 130 pilot measures. The pilot scheme aims to create a more open market and a better regulated regime in the service sector in Guangzhou. The measures, which will be implemented via a three‑year trial, are designed to ease market access, reform market regulation and optimise the market environment, and are expected to play a leading role in the opening up and innovation of China and its service sector.
At the "Open Guangzhou, Shared Opportunities" roundtable [2] held in May 2023, experts and representatives from Guangdong, Hong Kong and Macao, mainland cities and various parts of the world discussed opportunities for co‑operation in the service sector and the promotion of international co‑operation on a larger scale and wider scope. The conference also discussed pilot tasks for the further opening up of the service sector to Hong Kong and Macao. Hong Kong is an important business service platform in the GBA. With Guangzhou's opening up continuing, Hong Kong companies should be able to find plenty of opportunities to expand the GBA service market.
Service market expansion
As the pandemic subsides, many companies in the Greater Bay Area are actively seeking external partners and new business development opportunities in the hope of resuming their pre‑pandemic growth momentum. Previously, the region's economy mainly focused on the processing trade, but now the GBA has a dire need for a wide range of services support. This is in order to expand higher tech businesses and achieve higher added value for industrial upgrade and development. Hong Kong is not only an important business and trade hub in Asia and a bridgehead for mainland enterprises to "go global". It is also working together with Macao and Guangdong to promote the deepening of reform and opening up, building a modern economic system and improving integration with the global market under the Outline Development Plan for the Guangdong-Hong Kong-Macao Greater Bay Area released in February 2019.
Guangzhou ‑ a core engine for economic development in the GBA ‑ is also an important business centre for Guangdong. In 2022, business revenue of enterprises above a designated scale reached Rmb1.68tn, an increase of 1.3% year‑on‑year (despite the impact of the Covid-19 pandemic) and up over 70% since 2017. In that same year, the service sector provided more than 71% of Guangzhou's GDP.
The two largest parts of Guangzhou's service sector are: (i) transportation, warehousing and postal services, and (ii) information transmission, software and information technology services. They accounted for 29.9% and 28.9% respectively of the city's service business revenue in 2022. Other parts of the sector include leasing and business services (18.5%), scientific research and technology services (9.6%) and real estate (7.7%) [3]. The further opening up of Guangzhou's service sector will not just help Hong Kong service providers expand the Guangzhou market, it will also make it easier for Hong Kong companies to establish a foothold in the city and serve the entire GBA better through Guangzhou. In particular, they can help mainland enterprises handle foreign‑related matters and promote further industrial co‑operation and development in the GBA.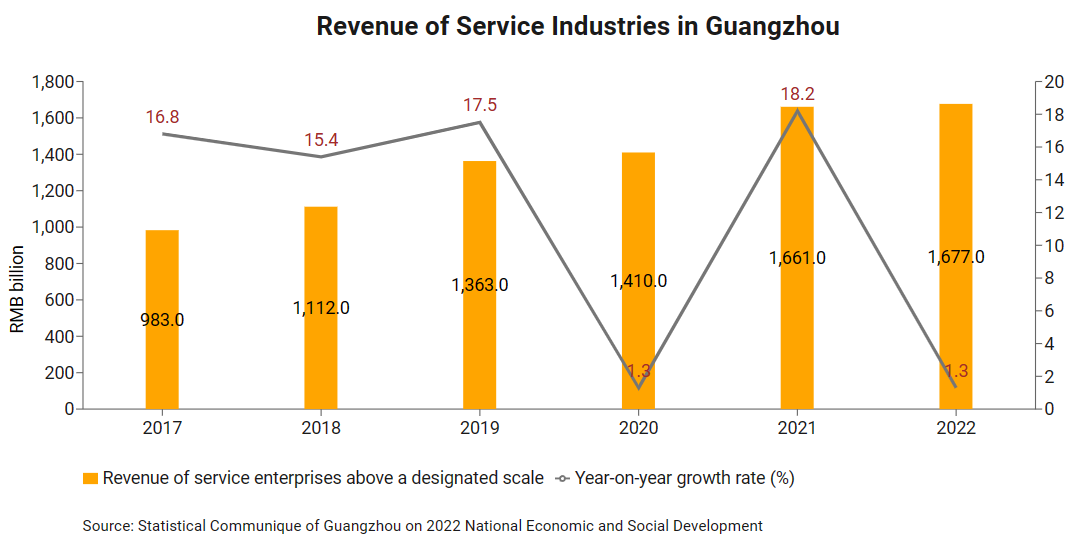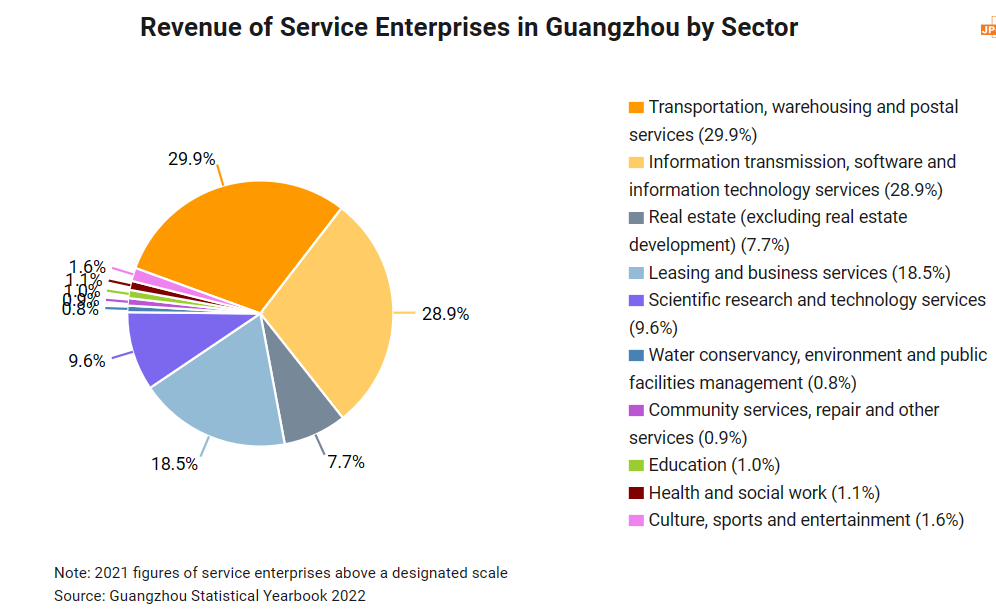 Opportunities for Hong Kong businesses
The multi‑task pilot scheme for the further opening up of Guangzhou's service sector covers five areas, which are: (1) 57 tasks promoting the deepening of reform and opening up for key sectors in service industries; (2) 17 tasks promoting the joint development of modern services and advanced manufacturing; (3) 24 tasks promoting the development of opening up service industries in key development zones and platforms; (4) 14 tasks aimed at improving the mechanism for the development and opening up of service industries; and (5) 18 tasks aimed at enhancing elements which will secure the opening up and development of service industries. Many of these measures are worthy of attention by Hong Kong companies.
♦Financial services: The master plan supports qualified foreign-funded institutions establishing or holding shares in securities firms, fund management companies and futures companies. Hong Kong and Macao financial institutions and social capital will also be encouraged to establish real estate investment trusts (REITs), and to launch pilots designed to build financial standards and deepen green finance co-operation in the GBA. Qualified financial institutions and enterprises will also be encouraged to issue green bonds abroad and join Hong Kong and Macao in exploring opportunities for climate investment and finance in the GBA.

With Hong Kong being an international financial centre, finance and insurance have always been important pillars of the SAR's economy. They account for approximately 21% of its GDP and employ 267,400 people (about 8.1% of Hong Kong's total working population). Opening financial services further in the Guangzhou pilot scheme means it will be easier for Hong Kong service providers to gain a foothold in Guangzhou and strengthen co-operation with local partners in order to jointly expand their financial services market in the GBA.
♦Professional services: The master plan suggests exploring the establishment of a list of recognised non-mainland professional qualifications in areas such as architecture, planning, culture and tourism (excluding chartered accountants, asset appraisers, tax agents and legal services). Qualified professionals with recognised non-mainland qualifications in the fields of finance, architectural design and planning (excluding legal services) may provide professional services in mainland GBA cities after registering with the required records. Working experience outside the mainland may be regarded as local working experience.

Hong Kong has many experienced professionals who can provide services in Guangzhou and other mainland GBA cities. For example, the Hong Kong Institute of Architects has over 4,000 registered architect members and there are 630 companies with some 6,220 employees in Hong Kong that provide architectural design services. These professionals will be able to take this opportunity to practise in Guangzhou and support the local service sector.
♦Cultural services: The master plan supports the decentralisation of administrative approval authority in Guangzhou for the import and export of works of art, the establishment of entertainment venues, performance venue operating entities and performance brokerage firms by foreign investors, Hong Kong and Macao SAR investors and Taiwan investors, and commercial performances presented by cultural performance groups from abroad or from the Hong Kong SAR, Macao SAR and Taiwan region or by individuals. Hong Kong importers and exporters and investors in cultural/performance businesses should find it easier to get approval for market access in Guangzhou.
♦Technology services: The opening of technology services to Hong Kong and Macao means that local institutions will be able to actively participate in scientific and technological plans (projects, funds, etc.) at national and provincial levels. The Guangdong-Guangzhou collaborative funding scheme will support the launch of trans-regional and interdisciplinary basic and applied basic research projects, optimise the cross-border disbursement of research funds and strengthen supervision over the use of cross-border research funding.

Hong Kong is an important business platform and technology trading centre in Asia, a place where local and overseas tech-based clusters gather for technology innovation. Hong Kong companies are familiar with the needs of overseas users in many fields of technology and are good at using general international standards and technology frameworks to provide technology and management system applications and solutions and assist in the commercialisation of research outcomes. An example of this is the Hong Kong Science and Technology Park. By the end of March 2023, it was home to over 1,300 innovation and technology enterprises and 13,000-plus R&D personnel from 22 countries and regions. After the further opening up of Guangzhou, Hong Kong businesses will be able to make use of mainland research resources for trans-regional collaborative research.
♦Business services: The master plan supports travel agencies with foreign investment, that are established in Guangzhou and meet the relevant requirements, engaging in outbound tourism business except to Taiwan. According to the liberalisation measures provided for in the Agreement on Trade in Services under the Mainland and Hong Kong Closer Economic Partnership Arrangement ( CEPA ), the number of Hong Kong wholly-owned travel agencies allowed to engage in outbound group travel for mainland residents visiting places other than Hong Kong and Macao (excluding Taiwan) is limited to five. If Guangzhou lifts this restriction, more Hong Kong travel agents will be able to set up business in Guangzhou to provide outbound tourism service to mainland residents. In 2019, 6.93m Guangdong residents travelled abroad to places other than Hong Kong and Macao in outbound tourist groups.
♦'Streamlining administration, delegating power and improving services': The master plan also proposes deeper reform in legal and administrative matters, including the promotion of online authorisation for civil and commercial cases involving Hong Kong and Macao residents. These measures will help Hong Kong and Macao residents in the handling of cross-boundary civil and commercial cases. The Chinese Ministry of Justice has so far appointed 533 attesting officers in Hong Kong and over 280 Hong Kong law firms have China-appointed attesting officers to provide services for Hong Kong-related notarial documents used on the mainland.
♦Medical services: Guangzhou has improved the procedures for allowing medical practitioners with Hong Kong and Macao qualifications to be recognised as mainland medical practitioners. This will help Hong Kong and Macao medical institutions and medical practitioners to provide medical service and practise medicine in Guangzhou, providing medical services to Hong Kong residents and others living on the mainland. It is expected to play a positive role in bringing mainland medical services up to international standards. At present, there are approximately 15,546 registered doctors and 8,080 practitioners of traditional Chinese medicine in Hong Kong.

Based on the requirements of the Work Plan for Regulatory Innovation and Development of Drugs and Medical Devices in the Guangdong-Hong Kong-Macao Greater Bay Area and the Interim Regulations on the Administration of Imported Drugs and Medical Devices for Urgent Clinical Use in the Guangdong-Hong Kong-Macao Greater Bay Area, the Guangdong Provincial Medical Products Administration and the Health Commission of Guangdong Province have, up to April 2023, issued catalogues for four batches of imported Hong Kong and Macao-registered drugs and medical devices. These are designed to be used by medical and health service providers in medical institutions established in mainland cities in the GBA by wholly-owned, joint-venture, co-operative and other means.
The implementation of the master plan, and the growing co‑operation and development in the GBA, should lead to Guangzhou and Guangdong introducing more economic cooperation and liberalisation measures involving Hong Kong and Macao. As well as helping mainland enterprises find suitable cross‑border services, this will also promote exchanges among service providers in Guangdong, Hong Kong and Macao. They will be able to discuss cross‑border co‑operation based on complementary advantages, in order to help businesses in the GBA ride the current global economic downturn and deal with the changes and challenges presented by the increasingly complicated external environment. Hong Kong service providers can also use this opportunity to nurture the mainland market through the GBA, promote the transformation and upgrading of mainland enterprises and work in co‑operation for win‑win results.
---
[1] On 10 January 2023, the Ministry of Commerce issued a notice on the issuance of a master plan for a comprehensive pilot scheme on further opening up the service sector in Guangzhou. (Shangzifa No.212 [2022]).
[2] "Open Guangzhou, Shared Opportunities" Further Opening Up of the Service Sector and Global Bay Areas Service Industry Cooperation Roundtable was held in Guangzhou on 25 May 2023. The event was jointly organised by the Guangzhou Municipal Government and Guangdong Provincial Department of Commerce.
[3] 2021 figures on service enterprises above a designated scale. Source: Guangzhou Statistical Yearbook 2022.
[4] 2021 figures. Source: Census and Statistics Department of Hong Kong.
[5] 2022 figures. Source: Census and Statistics Department of Hong Kong.
[6] Guangdong Statistical Yearbook.