2022 - New pathways in sustainable innovation
The London Stock Exchange continues to be the world's most international exchange, convening global capital for businesses and investors from around the world, providing the trading infrastructure that sits at the heart of it. After the post-pandemic recovery of last year, 2022 saw geopolitical and economic turbulence globally. As a result of this, our customers are more than ever, looking to generate long-term sustainable growth. At the London Stock Exchange, we focused on developing innovations that bring suppliers and consumers of capital closer together – to accelerate the transition to net zero and facilitate the continued flow of global investment for business and economic growth.
We welcome the continued efforts by the UK Government and regulators to evolve our financial ecosystem and improve the competitiveness of the UK capital markets. In 2022, the Treasury welcomed a new UK Capital Markets Industry Taskforce (CMIT), comprised of representatives across the full end-to-end ecosystem of the public and private capital markets. Chaired by Julia Hoggett, CEO of the London Stock Exchange plc, the goal of CMIT is to ensure the UK capital markets continue to provide efficient access to capital, enabling businesses from around the world to grow and scale in the UK, providing all savers and investors with access to the best possible assets, generating the best possible returns.
World-leading innovation in sustainable finance
Our capital markets have continued to fund green growth and support the shift towards a low-carbon economy. Our innovations reaffirmed our commitment to supporting the growth of sustainable finance.
In October, we launched the Voluntary Carbon Market (VCM) becoming the first exchange in the world to use public market infrastructure to facilitate and accelerate financing at scale into projects that mitigate climate change and generate carbon credits.
We have been encouraged by the market response and in December we welcomed Foresight Sustainability Forestry (FSF) as the first London-listed investment trust to receive the VCM designation.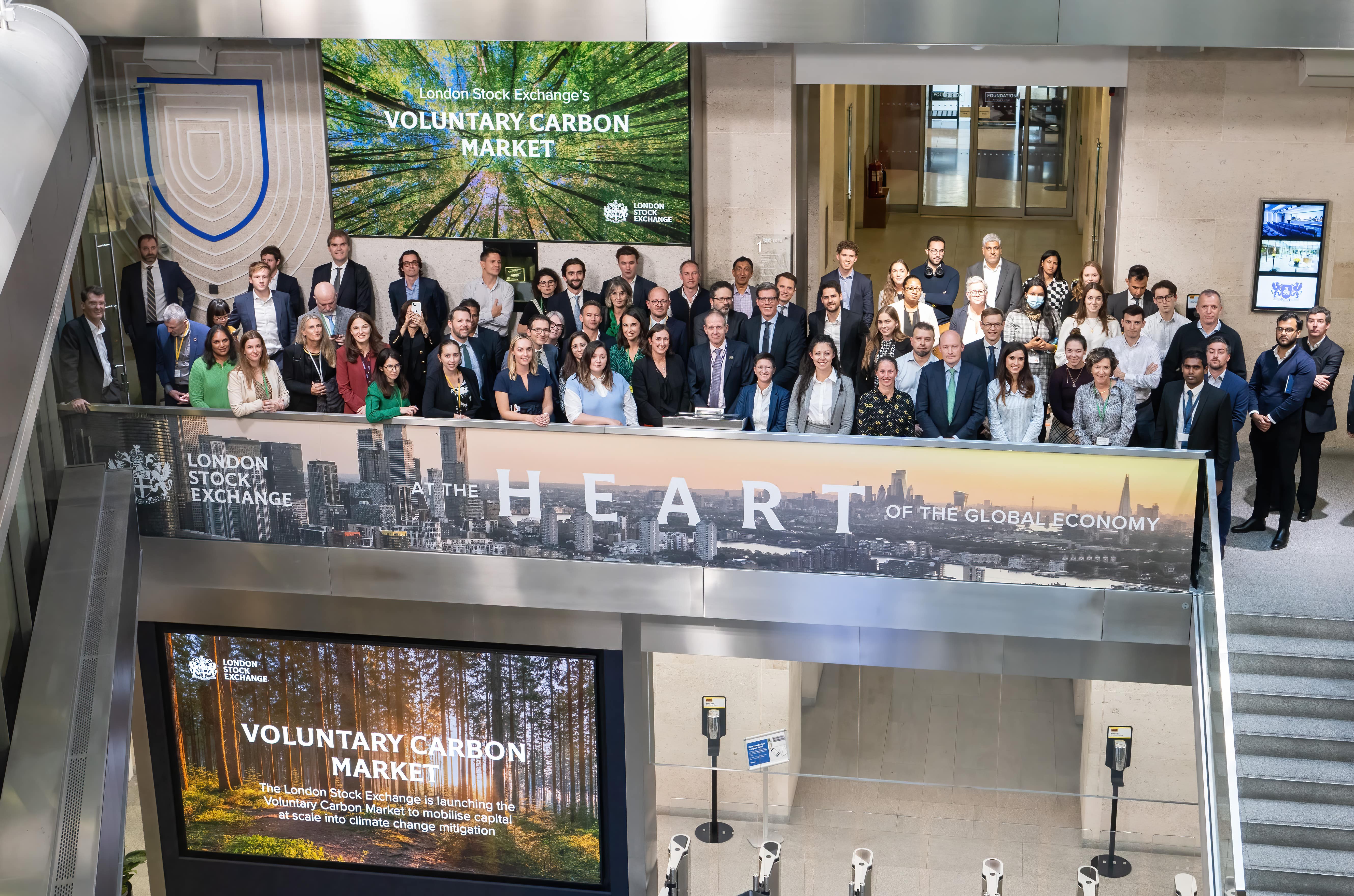 Voluntary Carbon Market launch
Funding green growth
Our capital markets have continued to facilitate capital flows towards the green economy and the low-carbon transition; 108 companies are currently recognised by our Green Economy Mark with a combined market cap of nearly £147bn, representing 3% of the total market cap of London listed companies. Companies recognised by the Green Economy Mark provide an investible universe of 'green economy' equities for the growing number of asset owners and managers seeking to deploy their capital into companies and funds which are contributing to sustainability goals through the solutions they provide.
Our Sustainable Bond Market (SBM) continues to be one of the global leaders in sustainable debt instruments, with more than £160bn raised by 462 green, social, sustainable, transition, and sustainability-linked bonds on our SBM, including £42bn raised in 2022. This included innovative issuances such as the Republic of Uruguay's debut Sustainability Linked Bond incorporating a coupon step-down and the EBRD's transition bond.
In recognition of the launch of several initiatives this year as part of our mission to support investors on sustainability issues, the London Stock Exchange was awarded Exchange of the Year at the Environmental Finance Bond Awards 2022.
Fixed Income: making moves in global debt markets
Our fixed income markets connect bond issuers with the world's most international investor base, with more than 12,000 active bonds, representing almost $4trn of debt capital across 40 currencies. We continue to support and champion innovative issuers and provide access, flexibility and transparency for investors. Despite volatility impacting global capital markets, the London debt markets have shown strong resilience. In 2022, issuers from around the globe chose London to raise over $600bn of capital, primarily driven by SSA and FIG issuers from developed markets.
We welcomed landmark transactions including the Public Investment Fund's (PIF) inaugural green bond, the first green bond to be issued by a sovereign wealth fund. The $3bn issuance included a century tranche and was reportedly over eight times oversubscribed by investors. The Republic of Chile issued the world's first sovereign Sustainability-Linked Bond and Export Finance Australia celebrated its inaugural 5-year $1.5bn issuance.
Equities: connecting international capital to inspiring companies
The London Stock Exchange continues to be the leading European venue, raising more equity capital than Amsterdam and Paris exchanges combined and with the market capitalisation of listed equities totalling £4.9trn. While global market conditions have been impacted by economic and political factors, it is encouraging to see companies accessing London's public markets. Throughout the year, 270 companies raised £12.8bn in follow-on capital to fund new projects and expansion alongside 44 inspiring issuers choosing to list on the London Stock Exchange, raising over £1.6bn.
London remains Europe's most active equity market and in 2022, welcomed more international companies than any other major exchange. The largest listing of the year came from China's Mingyang Smart Energy Group, raising £592.4m through a GDR offering via Shanghai-London Stock Connect. Mingyang Smart Energy also qualified for the Green Economy Mark.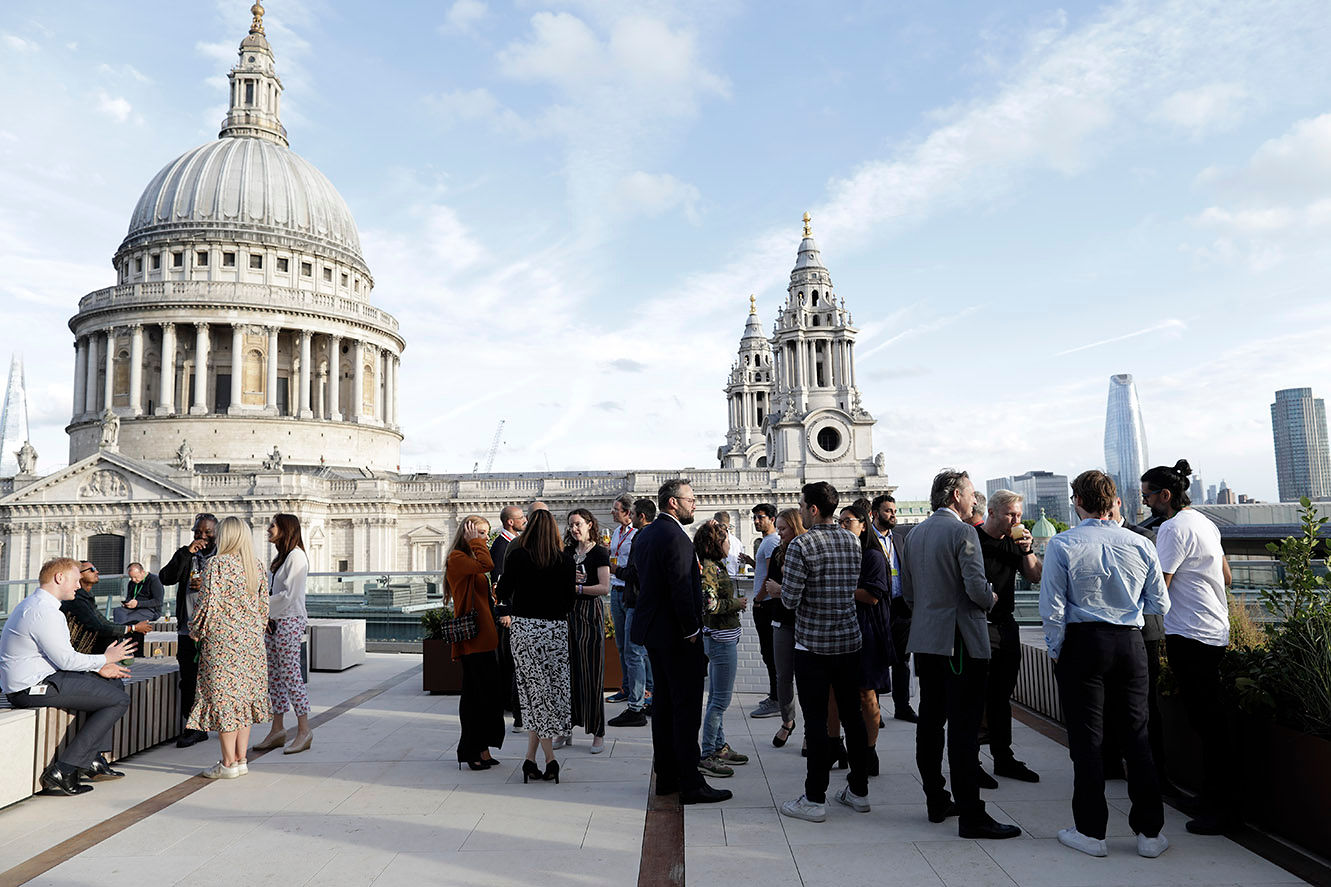 Fintech Grows Here event with Fintech Founders
Resilience in the face of volatility
The investment fund market demonstrated its resilience with listed funds continuing to scale, raising over £3.6bn from further issuance across all asset classes. There are now 32 listed funds with the Green Economy Mark, with a combined market capitalisation of £18.6bn.
Counter-cyclical strategies in real assets dominated the fundraising activity. Over 60% of new capital was raised by funds focused on Infrastructure, Renewable Energy Infrastructure and UK Real Estate, as investors sought to protect their portfolios against inflation. The introduction of the Voluntary Carbon Market will only further propel the opportunities for funds.
Developing private markets
Our goal to broaden access to our markets continued in 2022. We made a strategic investment in Floww, marking a step further toward our mission to be the first global exchange group that is genuinely indifferent whether a company is public or private. Floww connects investors, private companies and intermediaries – furthering our commitment to modernise the capital markets and ensure an efficient funding continuum across private and public capital markets. The London Stock Exchange continues to work with Floww to help launch their private primary capital raising facility, while exploring liquidity options including the use of new technologies.
Exchange Traded Products: strong growth in listing and trading, and innovation in execution
The London Stock Exchange continues to be the premier ETP listing and trading venue in Europe. The milestone 2,000 ETP listings was surpassed in 2022 and total ETP orderbook value traded in 2022 to date is £148.4bn. Average daily turnover in 2022 to date is £645m – a 7% increase year-on-year.
Trading in all ETPs continued to grow strongly and now accounts for 14% of the total London Stock Exchange orderbook turnover. There has been a 100% increase in ETP orderbook turnover over the last seven years.
There are currently 47 ETP issuers and 19 market makers on the London Stock Exchange. Interest from around the world has continued to grow, with 267 listings taking place in 2022, including 97 new ESG ETFs. The assets under management (AUM) of the 2,000+ ETP listings in London now exceed $1trn.
Helping investors achieve better execution outcomes
Launched in 2020, the London Stock Exchange's RFQ 2.0 has revolutionised the ETF trading landscape by helping investors achieve better execution outcomes by accessing different types of liquidity instantly and in one place.
This year, RFQ 2.0 passed several major milestones, reaching £2bn turnover since launch across 110,000 trades, as well the successful integration of the order type into the Fidessa trading system, making RFQ 2.0 easily accessible for clients using ION. We will continue to work with banks and support clients on ever improving execution outcomes when they are trading ETPs.
The value and contribution of these innovations – and the team that delivers them – has been recognised by several industry awards. The London Stock Exchange was voted the "Best European Exchange for Trading ETFs" at the ETF Express European Awards 2022.
Issuer Services: helping companies access data and connect with investors
Our commitment to delivering a best-in-class client experience was reflected in the expansion of our Issuer Services platform.
New capabilities and data rich innovations provide our members with a greater range of insights to make informed decisions. Members can now access reports from Global Intelligence, which provides global sell-side research through a library of 30m+ global, non-real-time equity, debt, and macro research reports from 1,000+ investment banks and independent research firms dating back to 1982.
Issuer Services customers can also leverage News powered by Reuters on the platform, providing blanket disclosure coverage of 50,000 publicly listed companies and over four million stories annually.
SparkLive, our global webcasting tool, helped companies tell their stories and connect with over 20,000 investors virtually across the globe and directly into Refinitiv desktops.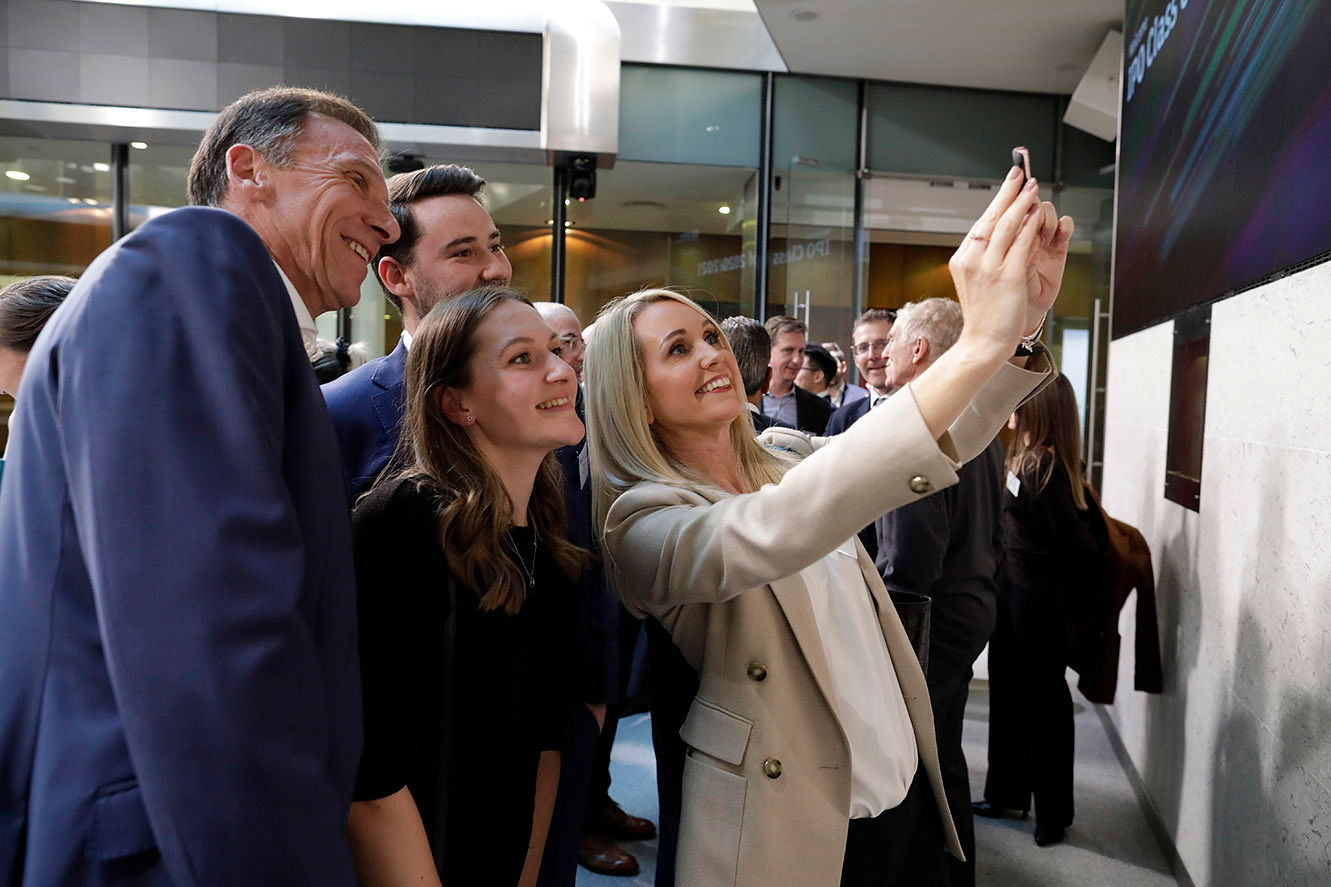 Class of 2020/2021 event
Securities Trading and Secondary Markets: industry recognition for innovation and service
As a leading provider of financial markets infrastructure, we support customers at every point in the trading lifecycle – from making pre-trade decisions and executing those trades to raising capital and settlement.
In partnership with industry and market participants, we have continued to develop products and solutions to enable access to liquidity on our market venues, provide greater flexibility and more ways to achieve best execution – all through one connection. We are proud that several of our innovations have been awarded by the industry for excellence and market recognition this year.
We welcomed 20 new members to the London Stock Exchange, Turquoise Global Holdings and Turquoise Europe in 2022, extending our geographic reach and continuing to grow our membership in Asia Pacific.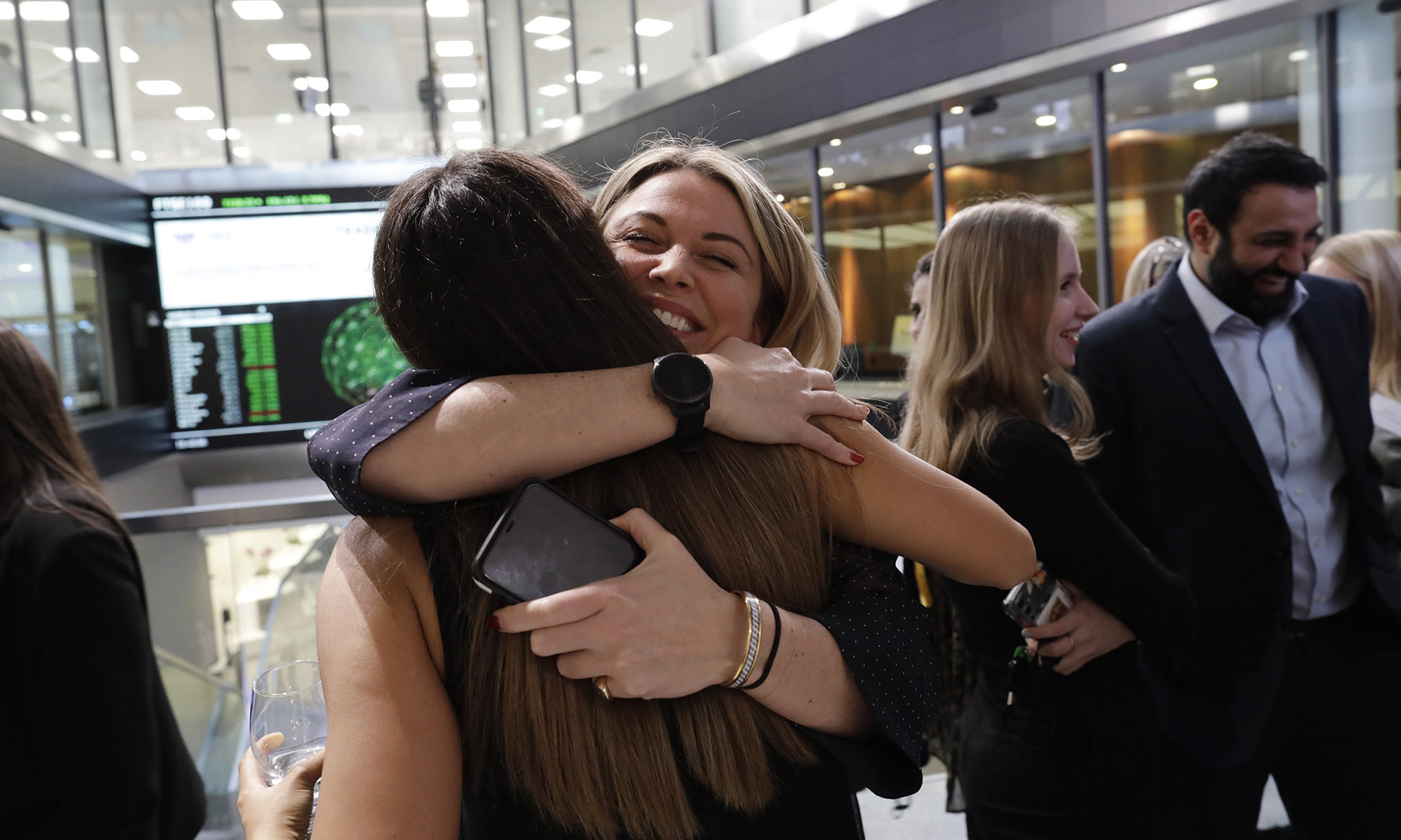 International Women's Day - The Path To Success
Hitting new trading milestones
Turquoise Global Holdings UK Market share in Lit Continuous trading reported consistent growth from 5.0% in January to 6.5% in November 2022, with a growth in ADVT by 6.2%. Turquoise Market share in Lit Continuous trading across European markets grew from 3.3% in January to 4.3% in November 2022.
Turquoise Plato®, our industry leading midpoint and electronic block trading service, celebrated its sixth anniversary in 2022. Since its launch, our customers have traded more than €1.4trn of equities, single counted, via Turquoise Plato® trading innovations.
Significant major trading milestones were passed in 2022, including the largest ever Swiss and Italian stock trades - €26.1m on UBS Group AG and €25m on Atlantia SPA.
An enduring purpose and commitment
Our centuries-old commitment to innovation and the delivery of outstanding service to our customers and partners remains undimmed. In 2023 we will continue to bring suppliers and consumers of capital closer together - for businesses seeking growth opportunities, governments with ambitious sustainability agendas, or pension funds seeking returns for their clients - and ensuring our markets continue to meet the needs of future generations.
Our business is at the heart of the economy, serving customers across the funding continuum and enabling them to make a positive impact in the real world.
*All numbers and statistics are valid as of December 2022.